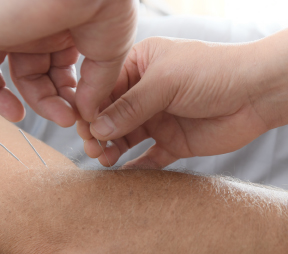 My Weekly Note (seventh)
Dr. Wenchuan Huang
The medical profession is a very envious career for other people, yet also a very dangerous career. Doctors witness with people birth/ aging / sick / death, people are experiencing pain, meanwhile doctors also need to deal with it over and over! After all, professional doctors, then think more successful case, otherwise, he can not live with it.
Speaking of doctors' pain, I want to say one case I encountered this week. She had difficulty in swallowing a few months, she came to my clinic initially turned to me, give medicine / acupuncture treatment, after treatment , she  reduced the frequency of dysphagia, eating significantly accelerated, the family is happy, I am also satisfied. Last week, the patient's family came to see me and said the patient had abnormal diet which she can only eat liquid and choking food, hospital gives patients abdominal surgery, placement of a gastric tube in order to feed patient, they look for my opinion. I saw the patient who i treated a few months ago, surprisingly she has been different, patient has obvious weight loss, could not be able to speak sound, upper extremity activities are not flexible. Examination of various neurological signs are hyperactive, upper limb muscle tone is high with typical pathological signs. A few months ago, it did not show this signs, or I was able to diagnose what disease she was suffering. According to the patient's symptoms and signs, I consider she is suffering from "motor neuron disease", which is an irreversible degenerative disease.
I recommend that patient stays in the hospital to listen to it, herb treatment and acupuncture would not have changed the patient's symptoms, and her condition will become increasingly worse.
A man can not transcend age since disease itself is not treated even with the best hospitals, even the best equipment, even the best doctors can not treat. "Motor neuron disease" is the current treatment of a untreatable disease. It also shows the incidence and morbidity of acute, chronic acute onset of a few months to a few years on the development of muscle weakness, muscle weakness until last breath muscle is fighting to breathe, patients will spend the rest of his life in bed and wheelchair.
I had the diagnosis of a case of middle-aged female patients, upper limb weakness to diagnosis, I consider that she was suffering from "motor neuron disease",  she went back to China immediately, a few months later, the family called to say she can not eat, and finally the respiratory machine is used to sustain life; I also met A middle-aged KIWI patient who has suffering from motor neuron disease for 25 years, he sat electric wheelchairs visiting to my clinic.
I would not treat patient if I do not I can help, the premise is that the disease can be treated well. The disease itself is impossible to recover, how can good medical treatment does t help?  to become a good doctor, it is necessary to have a clear understanding of the diagnosis of disease, the treatment of disease progression in every stage. I believe that reading books is  necessary, yet it is not all. it is impossible according to the old rules in books. So good doctor should have good observation, discernment, analysis and comprehensive perspective. the good doctor should have a "reverse thinking" ability to take on the diagnosis and treatment of other doctors say.
Let us share a happy case met this week,  a regular patient has been unconscious two weeks, the hospital agreed to acupuncture treatment. She is unconscious after a heart bypass surgery, the anxious family members stand around, the doctor said surgery  was complicated by cerebral infarction. I have seen patients with systemic tubes, nasogastric tubes, breathing tubes, catheters, infusion tube, a look that critically ill patients has, acupuncture stimulation did a great reaction, I gave her treatment every day after work, two weeks later her condition gradually improved, last week she has been moved from intensive care room to general ward, she can simply say goodbye and promised to make dumplings after this . Paralysis of the limbs can move estimated to slowly recover, taking care of herself is no problem.
No matter how heavy the patient problem is, as long as the damage patient  suffers from is reversible, through its own self-recovery and appropriate treatment, the disease will slowly improve, but only if the disease is reversible. If there is no basement for patient to support on there is nothing we can do about that.
The whole family is extremely satisfied with me and applauses me a high compliment about  my achievement, but I do have a second thought, my treatment was just to help her better recovery, all hospital treatment also helped her better recovery, in terms of  a nurse regularly monitoring, hygiene care is better for her rehabilitation. Everything is done to help treat the role of the patient's own ability to heal.
For more articles, please visit us on www.drwin.co.nz. Or call us at 098150518. 1054 new north road, Mt albert.
Trackbacks and pingbacks
No trackback or pingback available for this article.