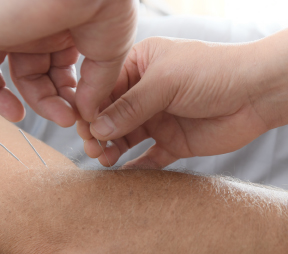 Weekly note
yang chen
This week we start learning syndrome differentiation of Qi,blood and body-fluid.Qi in traditional Chinese medicine stands for the micro-substance of the whole universe,based on this,we can function not only as an individual but a social member,without it,we may no longer exist.Blood,known as transport system within our body,is make up of Qi and body-fluid.it supplies our body with nutrient that comes from the food we eat and the fluid we take.Body fluid refers to fluid that is being processed within our body,,then is utilized by our body later.
Distinguish of Qi-diseases
The frequent syndromes being seen in clinic are Qi deficiency,Qi sink,Qi stagnation,reverse flow of Qi,Qi collapse and Qi blockage.
Qi deficiency disease is marked by disinclination to talk,shortness of breath,headache and dizziness,spontaneous sweating and getting worse when exercising.In our opinion,our healthy qi has the function to hold body fluid from leaking without reason,thus spontaneous sweating will happen if patients suffer from qi deficiency.so as the shortness of breath and disinclination to talk.
Qi sinking is marked by organs prolapse,such as uterus and rectum even stomach.chronic diarrhea and dysentery,straining feeling of abdomen.a desire to go to toilet urgently,accompanying with qi deficiency symptoms.
Qi stagnation is diagnosed by distending pain in the chest,hypochondria region and stomach,which alleviated by belching,sighing and getting worse when are in bad mood,such as anger,worry or anxiety.
Reverse flow of qi is identified by disorder of three organs,they are stomach,liver and lung.the symptoms can be cough and gasp if the lung qi fails to disperse,hyperactivity of liver qi and flaming of liver fire lead to headache and dizziness.when stomach qi fails to descend and flows upwards,it causes hiccuping,belching and nausea,vomiting.
Qi collapse syndrome is recognised by weak and irregular breath,constant sweating,eyes closing with mouth open,fainting or syncope,pale tongue with moist and white coating and faint pulse.incontinence to hold on urine and stool.
Qi blockage is discerned by retention of urine and stool,cold limbs,harsh breath thick tongue coating,colicky pain,sudden syncope or fainting may occur.
Blood-diseases differentiation
Four types can be subdivided in blood problems,namely blood cold,blood heat,blood deficiency and blood stasis.
Blood deficiency,known as anemia in western medicine,causes pale face,lips,tongue and nails.palpitation and insomnia may occur if the head and heart can not be nourished,insufficient blood may cause gynecology problems such as amenorrhea,menoxenia and so on.
Blood cold may lead to cold pain and contraction of limbs and abdomen,unlike cold and prefer to warmth.delayed period with dark or purple blood with clots,cold blood and cold limbs,light purple tongue with white tongue and slow or tense pulse.
Blood heat may be due to emotional change,overeating of hot and spicy food and exogenous pathological evils. It may lead to cough blood or spit blood,all kinds of bleeding problems feverish sensation all over the body,flushed face and local carbuncles,deep-red tongue,slippery and rapid or rapid and wiry pulse.
Blood stasis is due to blood leaking outside the vessel and remain within body,qi deficiency,qi stagnation,cold coagulation and blood heat. It may cause fixed stabbing pain worse when pressing and at night,frequent hemorrhage presents and company with blood clot,dark and purple tongue with ecchymosis,dark complexion and cyanotic tips and nails etc..
Body-fluid syndrome differentiation
Body fluid disorders can be generally divided into body-fluid deficiency and fluid retention.
Body fluid deficiency syndrome can be caused by insufficient generation and profuse loss of body fluid due to sweating,excessive sweating and dryness injures body fluid.Deficient body fluid fails to nourish and moist,which will lead to dry mouth,lips.a desire to drink,less urine and dry stool,withered skin,dry tongue with scanty saliva,thready and rapid pulse.
Fluid retention syndrome can be subdivided into three types:phlegm retention,fluid retention and water retention syndrome.Qi stagnation is triggered due to unsmooth flow caused by phlegm retention,chest distress may occur,so does the wheezing and panting.When the phlegm retains at the stomach,it can cause disharmony of stomach qi and failing to receiving food and gastric pain and abdominal distention,when the phlegm retains under the skin and muscles,it leads to local qi and blood blockage.
Fluid retention in the stomach and intestine can cause fullness and pain in the stomach and abdomen,sound of water shaking in the stomach,if retained in the chest and hypochondria region may stir up distending pain in the chest and hypochondrium,worse when coughing and turning the body to breath.if stored in the chest and lung,it can arouse cough and pant,excessive clear and thin phlegm and failure to lie down flatly,if retained in the limbs,the evil can cause edema,heaviness sensation in the limbs stabbing pain wiry or slippery pulse etc…..
Water retention refers to internal retained water which flows over the muscles,or stays on the abdominal cavity,leading to general or local edema.Accumulating in the abdominal cavity,there appears puffiness and fullness in the abdomen with dull sound or mobile dull sound on percussion.
Edema is marked by general puffiness as water flows over the muscles and face,yang and yin edema should be told clinically to make further excess or deficiency diagnosis.Yang edema is excess syndrome which is characterized by rapid onset,start from the eyelids then,epidemically to limbs and all over the body especially in upper body.Yin edema is deficient syndrome,which is marked by urine retention,slow onset,especially in the lower part,mostly accompanied by spleen and kidney yang deficiency.
for more info, please phone 098150518 dr win acupuncture, or visit 1054 new north road mt albert.
Trackbacks and pingbacks
No trackback or pingback available for this article.