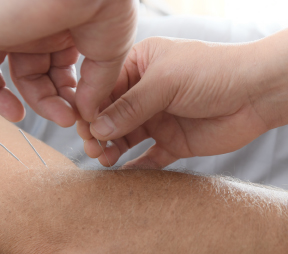 we did acupuncture and chinese medicine treatments for 16 patients on Sunday
we did acupuncture and chinese medicine treatments for 16 patients on Sunday
Case 1, He has the Achilles tendonitis for 4 months, he likes running, so he must stop running because of the pain. he has six sessions of acupuncture, feeling much better, now no pain, just tension on the left Achilles, but his left Achilles is thicker than the right one due to the inflammation. keeping treatment.
Case 2, he has had a shoulder problem for 8 yrs, pain and stiffness around the right shoulder, he always takes the painkiller while it is bad. he has a hearing problem, his wife did acupuncture for her Achilles pain, so let him come to see me. it is his second treatment.
Case 3, he has the lower back pain for long times, especially in the morning more pain on the right lower back. his wife is Chinese, let him come to see me. he had two sessions of treatment, feeling much better, but he stops his treatment. he feels more pain in the lower back, so come to do acupuncture again.
Case 4, she has had stomach issues for 5 mts, she had one session of treatment last Thursday, feeling much better, I reported the case in our website https://drwin.co.nz/%e3%80%90patients…
it is her second treatment.
Case 5, he has had lower back pain for 2 days, he got bad lower back on last Friday, she could not to move his lower back, walking difficultly. he felt much better after the first acupuncture. it is his second treatment.
Case 6, she has the right neck pain for one month, sleep is not good due to the neck pain, she went to do many treatments, such as massage, physiotherapy, painkiller, just helped her less. so she did her first acupuncture in my clinic last week, she felt much better, the neck pain relief lots, sleeping is ok. it is her second acupuncture.
Case 7, she has had rhinitis for one yrs, blocked nose, always feels something in the nose and running nose. she had her first acupuncture in last week, she feels much better, no blocked nose. it is her second treatment.
Case 8, she has numbness and pain on the left hand, she has left neck and shoulder pain and stiffness. only numbness on the left middle finger after several treatments, keeping acupuncture.
Case 9, he has had eczema all body for 23 yrs. he always used the stereo cream while he felt more itching and uncomfortable, but it was worse and worse, so he wants to stop the stereo cream. he has stopped the stereo cream for 3 months, and does acupuncture, keeping quiet, he still can control the eczema situation. keeping acupuncture.
Case 10, he has the stomach area pain for 6 mts, the pain point is on the over belly button 3cm, push pain is 5-6/10 if he lying down relaxing, but it is 7-8/10 while he makes his belly tension( contract his belly muscles), I do acupuncture and bleeding cupping, we look the result.
Case 11, he is 12 yrs old, he has had the right lower back and leg pain for one month, it is sciatica. she does acupuncture several times, the pain relief lot from 9-8/10 to 3-1/10, keeping acupuncture. he is my youngest sciatic patient.
Case 12, she has knee pain and lower back pain, she is over 60 yrs old, she is degenerative arthritis, it is the first treatment in our clinic, acupuncture, and cupping.
Case 13, she is our old patient, she had treatments for her neck pain and shoulder pain in our clinic before, she has had lower back pain for 6 days, so she comes to do acupuncture again.
Case 14, he has dizziness, unbalance for one yrs, he does acupuncture regular for 2 mts, he can not feel dizziness and unbalance, but her legs shake while standing from sitting. keeping acupuncture.
Case 15, he gets left face palsy for 2mts, it is a hunter syndrome, due to the single virus infection, he does acupuncture for one mts in our clinic, get improvement, but no too big. keeping acupuncture.
Case 16, he has had both knees pain for many yrs, he did three injections in both knees, his left knee had more pain and swelling, so the doctor just give him the painkiller, so he wants to try acupuncture for the knee pain. it is the first treatment.
On 13/02/2022 on Sunday, it was bad weather, big wind make Northshore harbor bridge close, so two patients who live in Northshore could not come. 
there were 3 new patients, 5 second-time patients, and 8 old patients on Sunday. they can feel the good result after treatment, only one case who is hunter syndrome, the face palsy, no big improvement. the disease the patient come to be treated include of hearing problem, Achilles tendonitis,stomach issues, and pain and numbness on the left hand, stomach pain, and shoulder pain, leg shakes, dizziness, unbalance, single virus infection, hunter syndrome, face palsy, lower back pain, knees pain. eczema, sciatica.