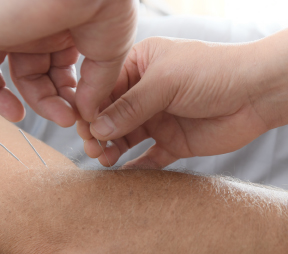 Tendinitis
Tendinitis

Tendinitis is inflammation, irritation, and swelling of a tendon, which is the fibrous structure that joins muscle to bone. Tendinitis pain in the knee is located in the front of the knee. The pain gets worse when going up and down stairs or inclines. Tendinitis knee pain can happen in runners, skiers, and cyclists.
Tips for Finding an Acupuncturist
When seeking out a professional acupuncturist, it is important to ensure that the acupuncturist is licensed and certified. Sterilising procedures should be used and more often than not, your acupuncturist will likely use disposable needles. If you are uncomfortable with the idea of needles, an acupuncturist may provide alternatives such as herbal methods, magnetic needles and ear cups. These are thought to provide similar results although are not considered as effective as acupuncture that utilises needles.
Whatever path you take to treating your knee pain and tendinitis, you can be relieved to know that you have many options, particularly alternative ones such as acupuncture. Hopefully, you will find a qualified acupuncturist who can listen to your concerns about knee pain and begin a treatment plan that provides effective relief.
If you would like to make an appointment please call us on (09) 8150518 or visit us 1054 new north road ,mt albert. if you require more information you may e-mail us at hwenchuan@sina.com
Trackbacks and pingbacks
No trackback or pingback available for this article.