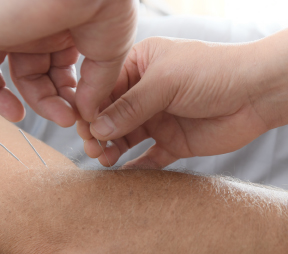 Some common clinical terms about muscle's problems
Some common clinical terms about muscle's problems
Quadriceps and hamstring strains also called quad and hamstrings pulls, these conditions involves tearing of these muscles or their tendons, happen mainly in athletes who do not warm up and then fully extend their hip or knee quickly and forcefully; not painful at first, but pain intensifies within three to six hours(30 mins if the tearing is severe). After a week of rest, stretching is the best therapy.
Shin splints: common term for pain in the anterior compartment of the leg caused by irritation of tibialis anterior muscle as might follow extreme or unusual exercise without adequate prior conditioning, because it is tightly wrapped by fascia, the inflamed tibialis anterior cuts off its own circulation as it swells and presses painfully on its own nerves.
Tennis elbow: tenderness due to trauma or overuse of the tendon of origin of forearm extensor muscles at the lateral epicondyle of the humerus. Caused and aggrevated when these muscles fully contract to extend at the wrist- as in executing a tennis backhand or lifting a loaded snow shovel. Despite its name, tennis elbow does not involve the elbow joint, most cases caused by work activities.
it is proved that acupuncture and chinese massage are all good for conditions mentioned above, if you want to find out what is happening to your body or do not want to wait for its own recovery, please contact us on 098150518, or visit 1054 new north road, mt albert. dr win acupuncture clinic.
Trackbacks and pingbacks
No trackback or pingback available for this article.