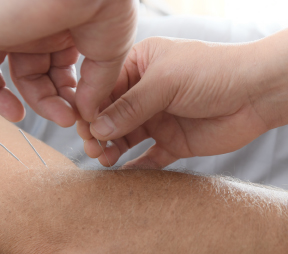 Restless legs syndrome and acupuncture
Restless legs syndrome is a neurological disorder that affects an estimated 12 million people worldwide. According to the National Institute of Neurological Disorders and Stroke, the incidence may be somewhat higher in females and most patients with severe cases are diagnosed during middle age. Older patients tend to face more severe symptoms than younger adults and children.
Symptoms
1. The common symptoms associated with restless legs syndrome (RLS) include a strong urge to move your legs when sitting or lying down and strange leg sensations described as creeping, crawling or tugging. Involuntary leg movements and jerking often occur. People with restless legs syndrome often can achieve temporary relief from these feelings only when moving their legs or walking.
Causes
2. According to the Mayo Clinic, restless legs syndrome may be caused by several factors. Heredity is thought to be responsible for one-third of the cases, as many members of the same family are often affected. Other possible causes include pregnancy, menopause and other hormonal changes. Iron deficiency has been observed in many patients with the condition and there is a possible link between restless legs syndrome and kidney failure. Stress is a factor in both the development of the condition and the exacerbation of symptoms.
Acupuncture
3. Originating in China, acupuncture has been used to treat medical conditions and physical ailments for thousands of years. The principal theory states that acupuncture can release trapped energy within the body–energy that is responsible for creating disease–by inserting needles along the meridian points to balance vital energy. Sessions generally last between 20 and 30 minutes. Depending on the ailment being treated, you may need anywhere from six to 12 sessions.
Acupuncture for RLS
4. Acupuncture is especially successful in treating stress-related disorders. By releasing tension and unblocking stagnant energy, acupuncture induces relaxation and an overall feeling of calm. Traditional Chinese medicine claims that RLS is caused by an energy blockage in the lower legs. By moving the legs, the stagnant energy becomes temporarily unblocked, calming symptoms. Acupuncturists claim they can relieve RLS symptoms by releasing the stagnant energy trapped along the lower leg meridian.
Considerations
5. More research needs to be conducted to determine the effects of acupuncture on restless legs syndrome. There is no known cure for RLS. If you suffer from this condition, you should focus on improving your overall health and eliminating stress from your life. Acupuncture may be a useful tool for reducing stress and promoting relaxation and wellness.
Tips for Finding an Acupuncturist
When seeking out a professional acupuncturist, it is important to ensure that the acupuncturist is licensed and certified. Sterilising procedures should be used and more often than not, your acupuncturist will likely use disposable needles. If you are uncomfortable with the idea of needles, an acupuncturist may provide alternatives such as herbal methods, magnetic needles and ear cups. These are thought to provide similar results although are not considered as effective as acupuncture that utilises needles.
Whatever path you take to treating your pain and tendinitis, you can be relieved to know that you have many options, particularly alternative ones such as acupuncture. Hopefully, you will find a qualified acupuncturist who can listen to your concerns about knee pain and begin a treatment plan that provides effective relief.
If you would like to make an appointment please call us on (09) 8150518 or visit us 1054 new north road ,mt albert. if you require more information you may e-mail us at hwenchuan@sina.com
Trackbacks and pingbacks
No trackback or pingback available for this article.