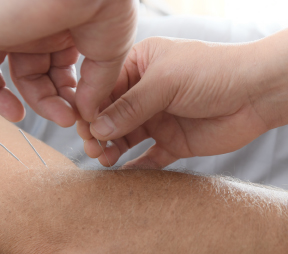 Interstitial cystitis Pain in your pelvis A persistent, urgent need to urinate Chronic pelvic pain
Interstitial cystitis
source: http://www.mayoclinic.com/health/interstitial-cystitis/DS00497
Definition
Interstitial cystitis (in-tur-STISH-ul sis-TI-tis) is a chronic condition characterized by a combination of uncomfortable bladder pressure, bladder pain and sometimes pain in your pelvis, which can range from mild burning or discomfort to severe pain.
While interstitial cystitis — also called painful bladder syndrome — can affect children and men, most of those affected are women. Interstitial cystitis can have a long-lasting adverse effect on your quality of life.
Symptoms
The signs and symptoms of interstitial cystitis vary from person to person. If you have interstitial cystitis, your symptoms may also vary over time, periodically flaring in response to common triggers, such as menstruation, sitting for a long time, stress, exercise and sexual activity.
Interstitial cystitis symptoms include:
Pain in your pelvis (suprapubic) or between the vagina and anus in women or between the scrotum and anus in men (perineal).
Chronic pelvic pain.
A persistent, urgent need to urinate.
Frequent urination, often of small amounts, throughout the day and night. People with severe interstitial cystitis may urinate as often as 60 times a day.
Pain during sexual intercourse.
Some people affected by interstitial cystitis experience only pain, and some experience pressure or discomfort along with frequent, urgent urination. Most affected people, however, experience both pain and frequent, urgent urination.
Although signs and symptoms of interstitial cystitis may resemble those of a chronic urinary tract infection, urine cultures are usually free of bacteria. However, a worsening of symptoms may occur if a person with interstitial cystitis gets a urinary tract infection.
When to see a doctor
If you're experiencing chronic bladder pain or urinary urgency and frequency, contact your doctor.
Causes
Your bladder is a hollow, muscular, balloon-shaped organ that stores urine until you're ready to empty it. In adults, the bladder expands until it's full and then signals the brain that it's time to urinate, by communicating through the pelvic nerves. This creates the urge to urinate in most people. With interstitial cystitis, these signals somehow get mixed up, and you feel the need to urinate more often and with smaller volumes of urine than most people.
It's likely that many people with interstitial cystitis also have a defect in the protective lining (epithelium) of their bladder. A leak in the epithelium, for example, may allow toxic substances in urine to irritate your bladder wall.
Suggested but unproven factors that may contribute to interstitial cystitis include an autoimmune reaction, heredity, infection or allergy.
Tests and diagnosis
The following may be helpful in diagnosing interstitial cystitis:
Medical history and bladder diary.
Complete pelvic exam.
Urine test. A sample of your urine will be analyzed for evidence of a urinary tract infection.
Potassium sensitivity test. In this test, your doctor places two solutions — water and potassium chloride — into your bladder, one at a time. You're asked to rate on a scale of 0 to 5 the pain and urgency you feel after each solution is instilled. If you feel noticeably more pain or urgency with the potassium solution than with the water, your doctor may diagnose interstitial cystitis. People with normal bladders can't tell the difference between the two solutions.
Cystoscopy. Doctors sometimes use this test to rule out other causes of bladder pain. Cystoscopy involves an examination of your bladder through a thin tube with a tiny camera (cystoscope) inserted through the urethra. Cystoscopy allows your doctor to see the lining of your bladder. In conjunction with cystocopy, your doctor may instill a liquid into your bladder to help measure your bladder capacity. This procedure, called hydrodistention, is generally performed with anesthetics to reduce discomfort.
Biopsy. During cystoscopy under anesthesia, your doctor may remove a sample of tissue (biopsy) from the bladder and the urethra for examination under a microscope. This is to check for bladder cancer and other rare causes of bladder pain.
Researchers are trying to develop tests that will help confirm the diagnosis of interstitial cystitis without an invasive procedure.
Treatments and drugs
No simple treatment exists to eliminate the signs and symptoms of interstitial cystitis, and no one treatment works for everyone. You may need to try various treatments or combinations of treatments before you find an approach that relieves your symptoms.
Oral medications
Oral medications that may improve the signs and symptoms of interstitial cystitis include:
Ibuprofen (Advil, Motrin, others), naproxen (Aleve, Anaprox) and other nonsteroidal anti-inflammatory drugs, to relieve pain.
Tricyclic antidepressants, such as amitriptyline or imipramine (Tofranil), to help relax your bladder and block pain.
Antihistamines, such as diphenhydramine (Benadryl, others) and loratadine (Claritin, others), which may reduce urinary urgency and frequency and relieve other symptoms.
Pentosan (Elmiron), is the only oral drug approved by the Food and Drug Administration specifically for interstitial cystitis. How it works is unknown, but it may restore the inner surface of the bladder, which protects the bladder wall from substances in urine that could irritate it. It may take two to four months before you begin to feel pain relief and up to six months to experience a decrease in urinary frequency. Side effects include minor gastrointestinal disturbances and possible hair loss, which reverses when you stop taking the drug. Make sure your doctor knows if you're pregnant or planning to become pregnant before taking pentosan, because this medication hasn't been studied in pregnant women. You may also need to have your liver function tested while you're taking this medication.
Nerve stimulation
Transcutaneous electrical nerve stimulation (TENS) uses mild electrical pulses to relieve pelvic pain and, in some cases, reduce urinary frequency. Electrical wires are placed on your lower back or just above your pubic area, and pulses are administered for minutes or hours, two or more times a day, depending on the length and frequency of therapy that works best for you. In some cases a TENS device may be inserted into a woman's vagina or a man's rectum.
Scientists believe that TENS may relieve pain and urinary frequency associated with interstitial cystitis by increasing blood flow to the bladder, strengthening the muscles that help control the bladder or triggering the release of substances that block pain.
Another possible nerve stimulation treatment is sacral nerve stimulation. Modulation of your sacral nerves — a primary link between the spinal cord and nerves in your bladder — may reduce feelings of urinary urgency that accompany interstitial cystitis. With sacral nerve stimulation, a thin wire placed near the sacral nerves delivers electrical impulses to your bladder, similar to what a pacemaker does for the heart. If the procedure successfully lessens your symptoms, a permanent device may be surgically implanted.
Bladder distention
Some people notice a temporary improvement in symptoms after undergoing cystoscopy with bladder distention. Bladder distention is the stretching of the bladder with water or gas. The procedure may be repeated as a treatment if the response is long lasting.
Medications instilled into the bladder
In bladder instillation, the prescription medication dimethyl sulfoxide, or DMSO, (Rimso-50) is placed into your bladder through a thin, flexible tube (catheter) inserted through the urethra. The solution sometimes is mixed with other medications, such as a local anesthetic. After remaining in your bladder for 15 minutes, the solution is expelled through urination. Delivering DMSO directly to your bladder may reduce inflammation and possibly prevent muscle contractions that cause frequency, urgency and pain.
Your doctor may initially perform DMSO treatment weekly for six to eight weeks, and then perform maintenance treatments as needed — often, every couple of weeks — for up to one year.
A garlic-like taste and odor may last up to 7 hours after treatment. DMSO can affect your liver, so your doctor may monitor your liver function with blood tests. For some people, this procedure may be painful or it may worsen symptoms. Talk with your doctor about other treatment options if this happens to you.
A newer approach to bladder instillation includes using a solution that contains a trio of medications: lidocaine, sodium bicarbonate and either pentosan or heparin to relieve urinary pain and urgency. Researchers are also testing a number of other solutions that may help relieve the symptoms of interstitial cystitis, including hyaluronan, chondroitin sulfate and oxybutynin.
Surgery
Doctors rarely use surgery as interstitial cystitis treatment because removal of part or all of the bladder doesn't relieve pain and can lead to other complications. People with severe pain and people whose bladders can hold only very small volumes of urine are possible candidates for surgery, but even then surgery is usually considered only after other treatments have failed. Surgical options include:
Bladder augmentation. In this procedure, surgeons remove the damaged portion of the bladder and replace it with a piece of the colon, but the pain still remains and some people need to empty their bladders with a catheter multiple times a day.
Fulguration. This minimally invasive method involves insertion of instruments through the urethra to burn off ulcers that may be present with interstitial cystitis.
Resection. This is another minimally invasive method that involves insertion of instruments through the urethra to cut around any ulcers.
Lifestyle and home remedies
Some people with interstitial cystitis find relief with self-care methods, such as:
Dietary changes. Although there's no scientific evidence that points to diet as the cause of interstitial cystitis, many people with the condition find that eliminating or reducing their intake of potential bladder irritants may help to relieve their discomfort.Some of the most irritating foods can be summarized as the "four Cs." The four Cs include carbonated beverages, caffeine in all forms (including chocolate), citrus products and food containing high concentrations of vitamin C.

If you find that your bladder is irritated by these things, you may also wish to avoid related foods, such as tomatoes, pickled foods, alcohol and spices. Artificial sweeteners may aggravate symptoms in some people, as well. If you think certain foods make you feel worse, try eliminating them from your diet. Reintroduce them one at a time to determine which, if any, affect your signs and symptoms.

Bladder training. These techniques may help reduce urinary frequency. The training involves timed urination — going to the toilet according to the clock rather than waiting for the need to go. You start by urinating at set intervals, such as every half-hour — whether you have to go or not. Then you gradually wait longer between bathroom visits. Bladder training may involve learning to control the urge to urinate by using relaxation techniques, such as breathing slowly and deeply or distracting yourself with another activity.
These other self-care approaches may help you as well:
Wear loose clothing. Avoid belts or clothes that put pressure on your abdomen.
Reduce stress. Try methods such as visualization and biofeedback, and low-impact exercise.
Try pelvic floor exercises. Gently stretching and strengthening the pelvic floor muscles, possibly with help from a physical therapist, may reduce muscle spasms. Sometimes this technique is combined with biofeedback.
If you smoke, stop. Smoking may worsen any painful condition, and smoking contributes to bladder cancer.
Exercise. Easy stretching exercises may help reduce your interstitial cystitis symptoms.
Alternative medicine
Two complementary and alternative therapies that have shown some promise in treating interstitial cystitis include:
Guided imagery. This type of therapy employs visualization and direct suggestions using imagery to help you imagine healing, with the hope that the body will follow the mind's suggestions.
Acupuncture. During an acupuncture session, a practitioner places numerous thin needles in your skin at specific points on your body. According to traditional Chinese medicine, precisely placed acupuncture needles relieve pain and other symptoms by rebalancing the flow of life energy. Western medical practitioners tend to believe that acupuncture boosts the activity of your body's natural painkillers.
These treatments have not been well-studied for interstitial cystitis, so be sure to discuss the use of these therapies with your doctor.
visit us on 1054 new north road mt albert auckland or phone09-8150518, email us at hwenchuan@sina.com女性警惕间质性膀胱炎 (ZT)
2008年09月10日06:02
来源:健康报
近年来,间质性膀胱炎在中老年女性中突然增多。该病的症状很普通,患者常有尿频、夜尿或下腹胀痛之感,却难以找出病因,结果吃了一大堆冤枉药,有些人甚至被视为神经质或精神出问题,往往搞得身心俱疲。
间质性膀胱炎的主要症状除了尿频,还会出现各种疼痛症状,如下腹部胀痛、阴道痛、外阴部痛、尿道痛、肛门痛、背部痛,甚至大腿内侧痛。
由于该病症状表现十分复杂,所以诊断相对困难,尤其有些症状和慢性膀胱炎等很相像,故误诊概率极高。
有很多人误以为间质性膀胱炎是细菌引起的膀胱发炎,或以为是膀胱表皮急性发炎。专家指出,其实这些都不是诱发原因。一般认为,其诱因是膀胱上皮下方的间质(细胞与细胞之间连接的组织)慢性发炎,发炎细胞之中最重要的就是纤维母细胞,因为慢性发炎导致纤维化,才引发症状。
虽然至今该病病因仍没最后确定,但治疗方法较多。可采用口服药物治疗、膀胱加水扩张术、膀胱内药物清洗、激光烧灼手术等。
那么,到底该如何避免间质性膀胱炎复发呢?
首先平时饮食控制很重要,专家建议少食多餐,如果要尝试新的食物最好从少量开始,再慢慢增加分量,一旦出现疼痛症状要减量或暂时不吃。
再者尽量避免吃含钾离子的食物或柑橘类食物,酸性食物(肉类、罐头食品、腌制品)、碳酸性饮料或发酵过的食物也易诱发症状。咖啡、茶、酒、香烟具刺激性,容易使症状加重。
此外运动也必须适量。避免太过剧烈的运动,以免刺激膀胱,影响骨盆腔肌肉,连带影响小便的通畅。专家建议,平常最好做些可减轻压力或有助于放松骨盆腔肌肉的运动,如散步、游泳、骑单车、做瑜伽等。如果炎症发作,去泡一下热水澡,可缓解症状。
中医和针灸对此病有治疗价值。
visit us on 1054 new north road mt albert auckland or phone09-8150518, email us at hwenchuan@sina.com
Trackbacks and pingbacks
【汇总】我曾治疗的多例尿频尿急尿痛病例及体会 | Auckland Acupuncture and Chinese Medicine – Phd Win Clinic
[…] 九,https://drwin.co.nz/Interstitial cystitis Pain in your pelvis A persistent, urgent need to urinate Ch… […]