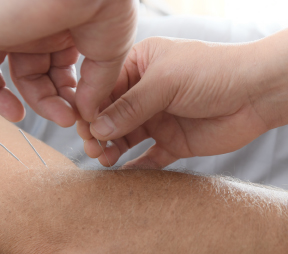 [PhD Win opinion] I will help you to choose an acupuncturist if you have some problems.
One patient made an appointment with us last week, then she sent a message and wanted to cancel her appointment, she told me that she found a clinic that is close to her office.
.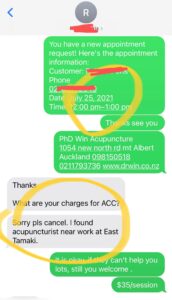 Some patients choose an acupuncturist that does the treatment at a lower price or in some cases, for free.
Yesterday one patient called me, wanted to make an appointment, but when she came to the clinic, she wanted to cancel the appointment, because we have a $35 /session surcharge for ACC treatment, she wants to try the free treatment.
It's great for patients, an acupuncturist could cure your problems, and the clinic is also close to your home or office, the treatment price is also cheaper, treatments are also free for acc patients. But this type of acupuncture clinic is very hard to find.
I will help you to choose an acupuncturist if you want to cure and understand your problems.
Firstly, the acupuncturist should have over 15 years of work experience in clinics or a hospital. Chinese medicine is very different from western medicine, western doctors can copy from the teachers and books. But the doctor will get rich experience from the patients in Chinese medicine, so the doctor can't become a higher quality doctor in a short time.
Second, choosing higher treatment fees. For example, acupuncture for headache, $120/ session, the patient will be cured in 3-6 sessions, it will cost the patient about $360-$720. But $60/session, the headache will still be there and there will be no improvement or only a little better after 10-20 sessions, it will cost the patient about $600-$1200. Which one do you choose? I often meet the patients who did free ACC acupuncture treatments for 16 sessions, then who come to see me and pay for the whole treatment fee (non-acc patient).
Third, choosing a more busy acupuncture clinic. The more patients coming, the better the doctor becomes. The more patients treated, the more experience he'll get. The more money earned, the better environment for patients.
Finally, learning Chinese medicine in China, and practicing in Chinese hospitals. There will be plenty of patients and the doctor could see a variety of different kinds of patients. There are enough high-quality doctors in hospitals that you can learn from.
So you should do more jobs with your friends, google to look for enough information about the acupuncturist, then you should go to try acupuncture. On other hand, you can also come to see the acupuncturist if it is possible. Then you can talk with the acupuncturist face to face. You'll know which one is comfortable and suitable for you, otherwise, you'll waste money, waste time, and the pain will stay in your body and mind. Thanks