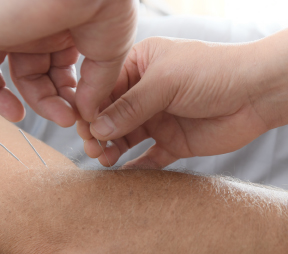 How can acupuncture be effective to prolapsed intervertebral disc
How can acupuncture be effective to prolapsed intervertebral disc
It is hard to think of pushing the prolapsed intervertebral disc (PID) back to where it was with the simplicity of tiny needles. I am afraid that you might have same confusion as most of the others which is the misunderstanding of this disease. To have a clear view of this disease, I would like to introduce some medical information that could help you to understand.
Intervertebral disc (ID) is a fibre tissue which sits between two intervertebrals, due to the material of tissue, it enhances the flexibility and compression of stress coming from all directions so that it protect the spine and increase the range of movement with the consolidation of muscles, tendon and other tissues. but every thing comes as two sides, like I said, this flexibility and range brings a higher risk of dislocation of discs expecially when unexpected forced strikes them or degeneration of tissues and surrending structures happens with the old age., so PID will lead to edema and inflammation which irritates nerve root, vessles and spine cord, causing weakness, headache, vertigo, incontinence to both urination and defecation, numbness and cold sensarion etc. the best way to deal with this situation is surgery, but sadly it is quite rare to see in the clinic.  Most symptoms are shown clinically caused by indirect irritation of PID. This is the target we work on to solve the so-called heal of PID.
Let me give you some examples so you can have a better understanding of my point. For those who have lower limbs pain due to PID,  orthopedist will always ask to take more rest on the back, it will take perhaps half a month to get back to normal condition, in this case, doctor did not do anything to treat patient which what I call it "direct impact" to patient, he did not change the PID, fact, but the symptoms are relieved somehow, so we can see PID itself does not change, but the changes that PID causes locally is getting mild; some people who did CT scan showed PID existed for several years, but no thing seems to be wrong at local, but they might have problems which is related to the indirect change of inner environment because of PID, so acupuncture can work to give relief to the change caused by PID instead of PID itself ; here is one more evidence of my assumption, with the help of removal of PID part, local pathological change should disappear immediately afterwards, but the truth is that it will take weeks to months for body to settle down with the inflammation of PID. With the all the facts I present above, I assume all of you would have a better perspective of why cupping, herbs, massage and acupuncture can treat PID.
Acupuncture has scientific research which were done by Chinese medicine university showing its obvious effect on pain by working as a pain killer ; meanwhile acupuncture has similar action as anti-inflammation drug ; it has a great effect on reducing swelling of non-infectious inflammation by relieving the tension of muscles etc. So through all the explaination, if you have any more confusion, please feel free to contact us on : 098150518. or visit us at 1054 new north road, mt albert. To check more articles, visit www.drwin.co.nz.
Tags: anti-inflammation drug, cupping, dislocation of discs, headache, Herbs, incontinence to both urination and defecation, massage and acupuncture, nerve root, numbness and cold sensarion etc, orthopedist, pain killer, prolapsed intervertebral disc (PID), spine cord, tension of muscles, vertigo, weakness
Trackbacks and pingbacks
No trackback or pingback available for this article.