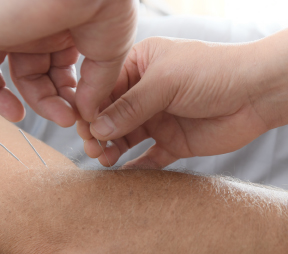 consolation of acupuncture
Consolation of Acupuncture
Any sorts of medical help could have a role of consoling patients more or less ,without exception of acupuncture, the stronger desire you have on getting beneficial from acupuncture, the better result you can receive, it works the same for both western medicine  and Chinese medicine practitioners.  Those who have good reputation and experience would have good consoling result without any doubt. But do not take it in the wrong way, if you only think acupuncture as a medical so-called "placebo", that is not all of it.
Some disease that is caused by psychological reason, the treatment result we can take it as acupuncture consolation, about ten years ago, a paralyzed girl came to my clinic with dysfunction of four limbs, it happened after she had a big terrible argument with her parents, she was diagnosed as dysteric paralysis after visiting heaps of hospitals and experts, I told her of my medical experience of treating such kind of disease and personal resume being a doctor, during treatment, I will make her focus on the needle sensation on purpose so that she would have confidence of her body physically and emotionally. Her symptoms disappeared one time completely after acupuncture.
Some traumatic disease would also be beneficial from consolation such as stroke patient and shoulder pain patients.  Not long time ago, I gave treatment to a guy who could not lift up his shoulder over 90 degree for half a month, he was scared of pain and dare not do that again, all the physical examination shows negative result and I put one needle on his hand and ask him to move the shoulder with me, and continue doing ten more minutes without my help, after withdrawing the needle, he can do the lifting almost pain free. In the above two cases, we can see acupuncture can work well  on psychological implication if you know what is going on with the patients.
Like I said, acupuncture also shows its surprising result for a lot of diseases such as sympathetic type of cervical spondylosis which is due to the irritation of cervical nerve  by sympathetic nerve chain appearing numbness on the hands, dry throat, chest oppression etc.  lot of nerve related disease like greater occipital nerve, bulbar paralysis, sciatica and so on, acupuncture can really work on both central nerve system and peripheral nerve system. We are providing you nothing but most considerable treatment plan to help with your concerns, feel free to contact us on 09-8150518 or visit 1054 new north road, mount albert, Auckland. For more articles, www.drwin.co.nz.
Tags: Acupuncture, cervical spondylosis, chest oppression, distending and itchy eyes,greater occipital nerve, distending and itchy eyes,greater occipital nerve , sympathetic nerve , Chest pain and oppression., drwin acupuncture, dry throat, medical consolation, numbmess on hands, psychological illness, sore itchy eyes
Trackbacks and pingbacks
No trackback or pingback available for this article.