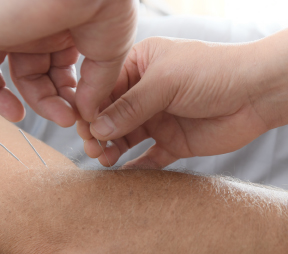 Cervical Spondylotic Radiculopathy
With the computer getting popularized, more and more people start to feel something wrong with their necks somehow, it happens to those who works in the office doing the computer mainly, together with people who have neck injuries or bad sitting postures. Anatomically, cervical part of spine is vital important and yet fragile at the same time since cervical spine holds up the head and endures all the movement around neck especially C4 to C5 and C5 to C6 section. Cervical spine degenerates quite early in 20 to 30 years old due to the loss of water and elasticity of intervertebral disc. Speaking of this degeneration, all other potential problems will be triggered as the time goes or followed by some external factors such as injury and work etc. I am going to introduce some ideas of how modern medicines look through this and discuss one of the six types of cervical spondylosis which is cervical spondylotic radiculopathy.
Cervical spondylotic radiculothy. This type is caused by hyperostosis of cervical vertebral joint and articular process, structural abnormality between cervical vertebrae, soft tissue injury and swelling. Symptoms are persistent vague pain of the neck, shoulder and back, ache in the irritated or pressed nerve root that radiates to the upper limbs, accompanied by stabbing pain or current passing numbness; weakness in grasping or difficulty in holding things at late stage.
Some Chinese method treatment method is quite clinically proved efficient for this problem. Combination of needling and ear acupressure. As it is , practitioners choose acupuncture on JiaJi points from C3 to C7 level plus Fengchi by even method, manipulate every 10 minutes and leave the needles in for 30 minutes; ear acupressure on neck, shenmen, endocrine gland, occipital points, ask patients to press 3 to 5 times per day.
The philosophical aspect of this method is that cervical spondylotic radiculopathy belongs to Bi syndrome in Chinese medicine and is mostly due to overstrain, wind-cold-dampness attacking. Needling on JiaJi points are efficient in adjusting local qi movement, activating meridians, besides, fengchi point is good at expelling cold-wind evil on local area in order to promote meridain circulation. Together with ear acupressure, it will shorten the whole course and enhance the treatment.
Chinese herbs treatment. This research was carried out by Li Nan and Wang He-ming in trauma department in China. This main purpose is to testify function between two formula, namely they are Ge Xian Yi Tong Tang and Jing Fu Kang capsule. A list of symptoms are made on questionairs to compare with, such as numbness on upper limbs, dizziness, lassitude, test of brachial plexus etc.
The philosophical idea of this treatment is the compound function of herbs and special effects as a formula. Basing on the sydrome and symptoms, this cervical disorder is considered as Bi syndrome in Chinese medicine theory, after passing middle ago, liver and kidney essence starts to go down which leads to lack of nourishment for tendon and muscles. Clinically herbs medicine is applied to patient since western medication is not working stable with side effects.
For more information, please phone 09-8150518 dr win acupuncture or visit us at 1054 new north road, mt albert, auckland.
Trackbacks and pingbacks
No trackback or pingback available for this article.