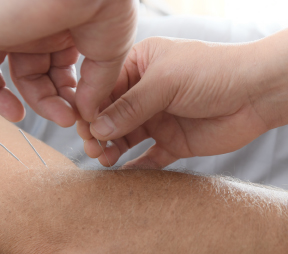 ACUPUNCTURE IN CHRONIC TENNIS ELBOW PAIN
research-article
THE ANALGESIC EFFECT OF ACUPUNCTURE IN CHRONIC TENNIS ELBOW PAIN
A. MOLSBERGER and E. HILLE
Orthopädische Klinik der Universität Düsseldorf Germany
Correspondence to: Correspondence to: A. Molsberger, Kasemenstr. 1b, 4000 Düsseldorf 1, Germany.
The immediate analgesic effect of a single non-segmental acupuncture stimulation treatment on chronic tennis elbow pain was studied in a placebo–controlled single-blind trial completed by 48 patients Before and after treatment, all patients were examined physically by an unbiased independent examiner. Eleven-point box scales were used [13] for pain measurement. Patients in the verum group were treated at non-segmental distal points (homolateral leg) for elbow pain following Chinese acupuncture rules, whereas patients in the placebo group were treated with placebo acupuncture avoiding penetration of the skin with an acupuncture needle. Overall reduction in the pain score was 55.8% (S = 2.95) in the verum group and 15% (S = 2.77) in the placebo group. After one treatment 19 out of 24 patients in the verum group (79,2%) reported pain relief of at least 50% (placebo group: six patients out of 24). The average duration of analgesia after one treatment was 20.2 h in the verum group (S = 21.54) and 1.4 h (S = 3.50) in the placebo group. The results are statistically significant (P <0.01); they show that non-segmental verum acupuncture has an intrinsic analgesic effect in the clinical treatment of tennis elbow pain which exceeds that of placebo acupuncture. If you would like to make an appointment please call us on (09) 8150518 or visit us 1054 new north road ,mt albert. if you require more information you may e-mail us at hwenchuan@sina.com
Tags: accupuncture, accupuncture centre center, acupuncture auckland, acupuncture center, acupuncture clinic, acupuncture therapy, acupuncturist in auckland, acupuncturists, Auckland Acupuncture, auckland acupuncture center, chinese medicine, CHRONIC TENNIS ELBOW, newmarket acupuncture, tennis elbow pain
Trackbacks and pingbacks
No trackback or pingback available for this article.