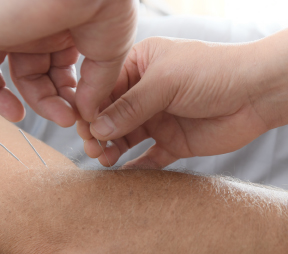 A case of Menopause is treated by Dr Win Huang with acupuncture and herbs
A case of Menopause is treated by Dr Win Huang with acupuncture and herbs
By Dr Win Huang
Menopause is a transitional period marking the cessation of ovulation in a woman's body. Most women stop menstruating between the ages of 48 and 52, but symptoms can begin as early as 35. Symptoms vary from mild to severe, and are brought on as our bodies try to adapt to decreasing amounts of estrogen. Symptoms include hot flashes, night sweats, insomnia, fatigue, mood swings, memory loss, vaginal dryness, headaches, joint pain, and weight gain.
Mrs Gyan 53 yrs old, suffer from menopause for 5 yrs. at early stage she has a bad sleeping, wake up many times at night, so feeling headache, dizziness, tired in daytime, in this two yrs she feels worse about her menopause, still bad sleeping, but she has the new symptoms, such as hot flashes, night and day sweats, fatigue, nervous, irritability. She takes some mediation for her menopause, but no big effect, so she look for Chinese medicine to help her, she find me from my website www.drwin.co.nz I give her a Chinese medicine diagnosis depending on her symptom, pulse, tongue coating, then choose acupuncture and herbs.
She feels very well after a session treatment, she told me that it was a first night to have a deep sleeping in these yrs. She had not hot flashes after second session treatment, no sweating after third session treatment, but still feels little tired in daytime, and irritability. Suggesting her to keep treatment. Patient will write her experience of treatment in acupuncture and herbs after the treatment finish, let us share his successful result.
If you would like to make an appointment please call us on (09) 8150518, or if you require more information you may e-mail us at hwenchuan@sina.com
DR WIN CLINIC
visit us on 1054 new north road mt albert auckland or phone09-8150518, email us at hwenchuan@sina.com