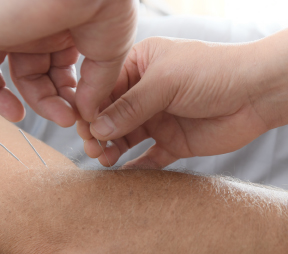 tearing of long tendon of biceps muscle, weakness sensation around shoulder joint
Here are two expectional cases which were recently treated by me, the first one I was moved by the patient's motivation as he drove five hours up to Auckland from a small town, he gets to stay here for two weeks at when he takes six treatments about his tearing of long tendon of biceps muscle which was diagnosed six months earlier with ultrasound. He took doctor's advice to not using too much right arm. after examining patient's situation, the diagnosis is confirmed and treatment plan is to apply distal point to relieve muscle tension and tendon adhesion, meanwhile,   tells patient to rotate the arm while getting special sensation from the needle, one thing I did to him after acupuncture is moving cupping which is quite benefitial to muscle stress. With the finish of whole course of treatment, the result is obvious and positive, the shoulder pain is almost disappeared for now.  Before coming here to visit me, he already tried several other places that did pretty much the similar stuff to him, but it did not work that well. From the medical point of view, the doctor's advice is professional as it is, patient might not know that tendon recovery could be completed around three months, so next thing we need to do is giving the healing a boost by activating local area to resolve the adhesion of tendon, that is the cone of patient's major issue that bothers him at the moment. So the meaning I share that case is to let patient know there are different stages of injury which probably you may need some professional ideas, so if you are confused to similar condition as this patient met, pick up the phone and give us a ring on 098150518 or visit us 1054 New North Rd, Mt Albert.
Another case I would like to talk to is one of my regulars, he has problem with lifting arm up which is companied by weakness sensation around shoulder joint,  the muscle strength scale is normal with flexible movement for the whole arm. His family doctor who holds there is only muscle problem sends him to a physiotherapist for further treatment, the physio concerned of cervial abnormality, as for me, I diagnosed him as inflammation of upper trunk of brachial plexus, where distributes the nerve to arms. The treatment outcome shows the positive feedback of my opinion. The reason I want to talk about this is because GP doctor majors into general comprehensive idea of western medicine, so it is understandable that there is a chance that they do not have a further and deeper knowledge of certain problem. As for physio, they work on rehabilitation of muscles which in this case could not help much. The reason I can give such precise diagnosis is that I started my medical career in western medicine more specifically neurol  major and practised 9 years before I step into Chinese medicine field. So if you have any confusion of neurology and traumatic injury, I am the one you should contact if you would rather not to swallow pills. give us a ring on 098150518 or visit us 1054 New North Rd, Mt Albert.
Trackbacks and pingbacks
No trackback or pingback available for this article.