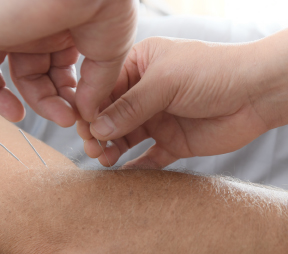 I didn't have any pain during the last three weeks, while taking the powder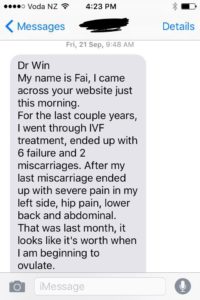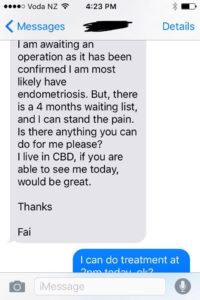 Dr Win
My name is Fai, I came across your website just this morning.
For the last couple years, I went through IVF treatment, ended up with 6 failure and 2 miscarriages. After my last miscarriage ended up with severe pain in my left side, hip pain, lower back and abdominal. That was last month, it looks like it's worth when I am beginning to ovulate.
I am awaiting an operation as it has been confirmed I am most likely have endometriosis. But, there is a 4 months waiting list, and I can stand the pain. Is there anything you can do for me please?
I live in CBD, if you are able to see me today, would be great.
Thanks
F—-r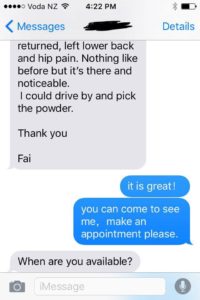 Hi Dr Win
I have returned from Australia last Thursday. I run out of the powder. Can I please come and pick up some more?
I didn't have any pain during the last three weeks, and while taking the powder. I started my menstrual cycle last Monday with very mild pain. I couldn't really tell as I was taking medicines for cold. As I have sharp cough. Now, period is over, the pain returned, left lower back and hip pain. Nothing like before but it's there and noticeable.
I could drive by and pick the powder.
Thank you
F—-r