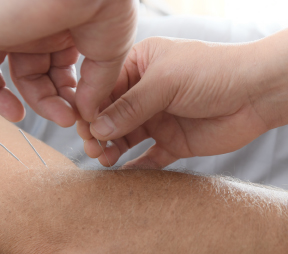 Fasciitis of shoulder and neck
Neck, shoulder muscle fasciitis, also known as fibrositis or muscular rheumatism, generally refers to aseptic inflammation fascia, muscles, tendons and ligaments and other soft tissues, causing shoulder pain, stiffness, restricted movement and weakness other symptoms, treatment is mainly physical therapy, drug therapy and acupuncture meanwhile keeping the local muscle active is also helpful.
Neck and shoulder muscle fasciitis is violated by a pathogenic factor neck, shoulder which turns out producing fibrous tissue injury and aseptic inflammation, thereby causing extensive neck, shoulder muscle pain and spasm together with a group of clinical manifestations. While upper respiratory tract infection or other inflammatory causes fever, cold, damp climate changes, such as when and physical over-exertion can also cause neck and shoulder aseptic inflammation. Aseptic inflammation of soft tissue damage will stimulate muscle contraction lasting appeared muscle tension, muscle spasms caused by long-term vasospasm, inadequate blood supply to the muscles and soft tissue fascia, nutritional disorders, tissue aseptic inflammation,  pain intends to be exacerbated followed by a vicious mechanism.
Initially the shoulder and neck tingling, numbness, soreness, after simple treatment can relieve, but the aseptic  inflammation is not ebbed.
Back pain, neck and shoulder soreness widely, heaviness, numbness, stiffness, limited mobility, can diffuse back of the head and upper arm. Pain is persistent, which also could due to infection, fatigue, cold, moisture and other factors increase. See examination neck muscle tension, tenderness often in the spinous process and spinous trapezius, rhomboids, etc., tenderness limitations, sometimes it does not distribute the routes of  nerves running through.
acupuncture is proved to be helpful with aseptic inflammation which western medicine pills can not do. Neck and shoulder muscles fasciitis treatment in patients with a high clinical volume are copy-writing workers, computer technicians, office clerks and so professional staff and even students have occurred in the neck and shoulder muscles fasciitis due to work load.
why do not you give us a call and let us relieve your suffering now? or directly visit 1054 new north road mount albert to our doctors. to see more medical articles visit www.drwin.co.nz,
Trackbacks and pingbacks
No trackback or pingback available for this article.