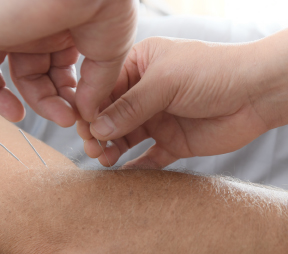 [Dr. Win Huang's medical case] the patient has back pain for half year , finally finding the right way after waiting for more than two months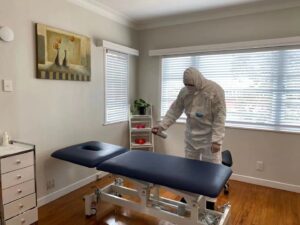 Our acupuncturists wear Full PPE under Covid-19 Leve3
the patient sprained his the lower back while lifting heavy things, and the pain was not tolerated. He went to do treatments more than 20 times, and he got better, but still there was still severe pain on the right lower back. he could not sit on chair for a long time, he  wake up due to the pain at night. he Quit up his job because of the severe low back pain. he made an appointment with us before the lockdown of Auckland for Covid-19, unfortunately  the sudden level 4 lockdown in Auckland disrupted his treatment plan in our clinic.
During the lockdown period, I gave him the guidance of self-healing treatment what we made.
The Acupuncture and Moxibustion Association(AcuNZ) emailed to us that we can reopen the clinic for treatment of urgent problems on last Monday. He made an appointment immediately for a treatment.
It is first day to open our clinic after two months lockdown of Auckland, he was our the first patient that day. After I heard of  his case history, I gave an examination and found that the left leg was obviously longer than the right leg, and the right leg had obvious external rotation. Look at below the photos.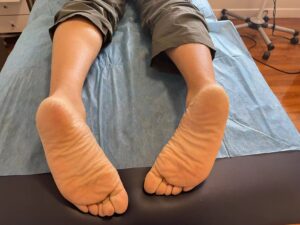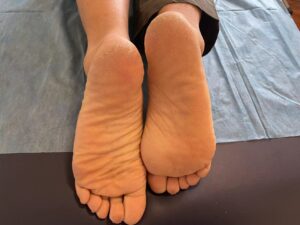 I thought his lower back pain due to the unbalance pelvis, and I will used the TCM bone setting method for the main treatment, Look at the position of his two feet after one session treatment.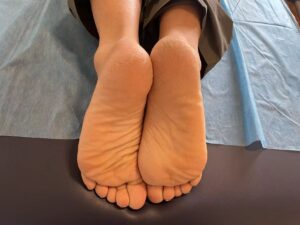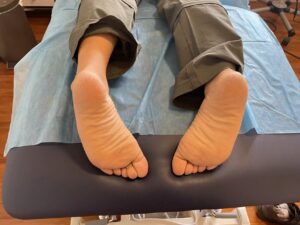 after one session treatment, he could not feel the lower back pain while he sat up, bent over, and stretched his waist. we will Check out his feedback later.
update his situation in 25/10/2021. after three sessions TCM bone setting, no different between two legs, but still little pain on the right lower back. keeping treatment.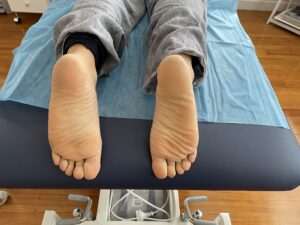 At present, the are many doctors, whether Chinese medicine doctors or Western medicine doctor, all for headaches to treat the head, feet pain to treat the feet, they do not look for the pain cause, and do not do even the most basic examination. for example low back pain, you should see where the pain is, whether it is joint pain, muscle pain, neuralgia, or fascial pain; is it a local problem in the waist, or a problem with internal organs; is it a problem with the lumbar spine and pelvis, or the whole body Rheumatic immune disease problem. As a TCM physician, we should know which way is the best way for the low back pain  which is acupuncture, cupping, chinese herbs, or bone setting. Therefore, it is a good doctor's signs to be aware of what we talk about. why the TCM doctors could not help the patient's lower back pain, they only know to do treatments, but did not know the real cause of the lower back pain ,which is a important aspect.