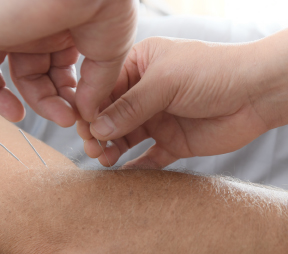 Low back pain – acute

Pain felt in your lower back may come from the spine, muscles, nerves, or other nearby structures. It may also be due to problems in your mid or upper back, the testicles or ovaries, or a hernia in the groin.

Causes
The specific structure in your back responsible for your pain is hardly ever identified. Whether identified or not, there are several possible sources of low back pain:
• Muscle spasm (very tense muscles that remain contracted)
• Other medical conditions like fibromyalgia
• Ruptured or herniated disk
• Small fractures to the spine from osteoporosis
• Spinal stenosis (narrowing of the spinal canal)
• Spine curvatures (like scoliosis or kyphosis), which may be inherited and seen in children or teens
• Strain or tears to the muscles or ligaments supporting the back
• Infection of the spine (osteomyelitis, diskitis, abscess)
• Cancer that involves the spine
Back pain may also be due to:
• An abnormal aortic aneurysm that is leaking
• Arthritis conditions, such as osteoarthritis, psoriatic arthritis, and rheumatoid arthritis
• Kidney infection or kidney stones
• Problems related to pregnancy
• Medical conditions that affect the female reproductive organs, including endometriosis, ovarian cysts, ovarian cancer, or uterine fibroids
• Testicular torsion (twisted testicle)
Exams and Tests
When you first see your doctor, you will be asked questions about your back pain, including how often it occurs and how severe it is. Your doctor will try to determine the cause of your back pain and whether it is likely to quickly get better with simple measures such as ice, mild painkillers, physical therapy, and proper exercises. Most of the time, back pain will get better using these approaches.
Questions will include:
• Is your pain on one side only or both sides?
• What does the pain feel like? Is it dull, sharp, throbbing, or burning?
• Is this the first time you have had back pain?
• When did the pain begin? Did it start suddenly?
• Did you have a particular injury or accident?
• What were you doing just before the pain began? Were you lifting or bending? Sitting at your computer? Driving a long distance?
• If you have had back pain before, is this pain similar or different? In what way is it different?
• Do you know the cause of previous episodes of back pain?
• How long does each episode of back pain usually last?
• Do you feel the pain anywhere other than your back, like your hip, thigh, leg or feet?
• Do you have any numbness or tingling? Any weakness or loss of function in your leg or elsewhere?
• What makes the pain worse? Lifting, twisting, standing, or sitting for long periods of time?
• What makes you feel better?
• Are there any other symptoms present? Weight loss? Fever? Change in urination? Change in bowel habits?
Here are some tips for how to handle pain early on:
• Stop normal physical activity for the first few days. This helps calm your symptoms and reduce inflammation.
• Apply heat or ice to the painful area. Try ice for the first 48-72 hours, then use heat.
• Take over-the-counter pain relievers such as ibuprofen (Advil, Motrin IB) or acetaminophen (Tylenol).
• While sleeping, try lying in a curled-up, fetal position with a pillow between your legs. If you usually sleep on your back, place a pillow or rolled towel under your knees to relieve pressure.
acupuncture is a good way to relief the acute pain of low back,sometime the pain is gone immediately after only one session treating.
Tips for Finding an Acupuncturist
When seeking out a professional acupuncturist, it is important to ensure that the acupuncturist is licensed and certified. Sterilising procedures should be used and more often than not, your acupuncturist will likely use disposable needles. If you are uncomfortable with the idea of needles, an acupuncturist may provide alternatives such as herbal methods, magnetic needles and ear cups. These are thought to provide similar results although are not considered as effective as acupuncture that utilises needles.
Whatever path you take to treating your low back pain, you can be relieved to know that you have many options, particularly alternative ones such as acupuncture. Hopefully, you will find a qualified acupuncturist who can listen to your concerns about low back pain and begin a treatment plan that provides effective relief.
If you would like to make an appointment please call us on (09) 8150518 or visit us 1054 new north road ,mt albert. if you require more information you may e-mail us at hwenchuan@sina.com
Trackbacks and pingbacks
No trackback or pingback available for this article.