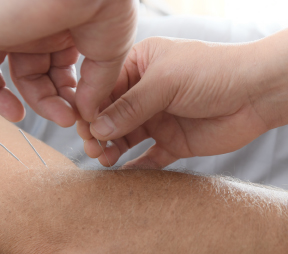 Acupuncture may become a mainstream treatment for period and endometriosis pain
Acupuncture may become a mainstream treatment for period and endometriosis pain
Chinese gynaecologists were using acupuncture to treat period pain 400 years ago. Now researchers such as Sydney-based New Zealander Mike Armour are running clinical trials that may see acupuncture become a mainstream treatment for both bad period pain and the pain of endometriosis.
It's early days, but Armour says the results are promising. A study of 74 Kiwi women with primary dysmenorrhoea – period pain with no organic cause – published last year in the international journal PLOS One found that 12 acupuncture treatments over three months significantly reduced the intensity, duration and symptoms of the women's pain for up to a year.
More recently, Armour carried out a small feasibility study looking at using twice-weekly acupuncture for eight weeks to treat the often-crippling pain associated with endometriosis – an inflammatory disease in which tissue similar to the lining of the uterus is found in places outside the uterus. The results haven't yet been published but he says the data analysis is looking promising – though no decision has been made about whether to carry out a larger study.
For Armour, it's about combining scientific rigour with his passion for traditional Chinese medicine. He has a foot in both camps. He graduated with a degree in biomedicine from the University of Auckland before training as an acupuncturist. He combines the two areas of expertise in his job as a post-doctoral fellow in women's health at Western Sydney University.
Although acupuncture is increasingly being used by Western health practitioners, Armour says it's important to carry out proper clinical trials before recommending it as a replacement for – or an addition to – established medical treatment.
"We need to examine what acupuncture works for and how well it works for particular conditions, especially for conditions where there's difficult medical management."
He says the pain of endometriosis is a good candidate for treatment by acupuncture, particularly for women who have developed a chronic pain condition because of delays in getting diagnosis and treatment.
Sometimes, their pain persists even after laparoscopic surgery to remove all their endometriosis adhesions and lesions. Armour says that's because the pain eventually causes changes in central and peripheral sensitisation. "That means the nerves in the abdomen start firing more easily and the brain turns up the volume of pain."
Some women can control their pain only with potentially addictive opioids such as oxycodone. Acupuncture could provide an alternative. "Women who are in such severe pain that they can't function without these strong pain medications are put in an impossible situation – are you incapacitated by pain or do you get addicted?"
Endometriosis affects about 10% of women. International studies suggest there's up to a 10-year gap between the first symptoms – usually extremely painful periods as a teenager – and diagnosis. By that stage many women have pain even when they're not menstruating.
Endometriosis can only be diagnosed using laparoscopic surgery, which is also used to remove any lesions and adhesions. For some women this significantly reduces their pain.
It's also possible to treat the symptoms even without a diagnosis by prescribing the pill or inserting a hormone-releasing  intrauterine device such as the Mirena. If hormonal treatment is started when a young woman first starts experiencing severe period pain, it might stop her from developing a chronic pain condition. If her pain is caused by endometriosis, hormonal treatment might stop it from progressing.
Hormones can also be used to treat severe period pain not caused by endometriosis, which is particularly common in the first few years of menstruation.
However, Armour says our "suck it up" attitude to period pain means many young women do not know the difference between normal pain and abnormal pain. Whereas mild cramping in the first 48 hours of a period is nothing to worry about, he says, young women should seek medical advice if they have pain that lasts their whole period and is so severe they regularly take time off school or work.
"Because period pain is so common for teenage girls, they're told that this is normal and everyone has pain – it's just part of being a woman and you have to put up with it. But it's not normal to have pain that affects your day-to-day life."
This article was first published in the September 8, 2018 issue of the New Zealand Listener.