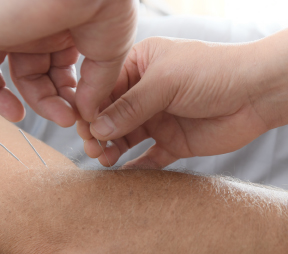 Skin disease treatment with Chinese herbal medicine(翻译哥 Jack 帮我翻译的,谢谢他)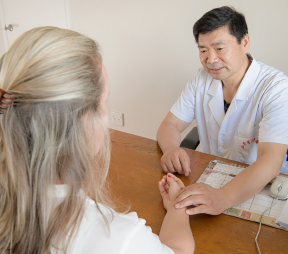 Skin disease treatment with Chinese herbal medicine
By Dr win Huang
I treated one patient with skin disease last week, with pimples significantly reduced after seven doses of Chinese herbal medicine treatment. Details are as follows.
Patient, male, 35 years old, had gotten pimples all over his body for many years, getting worse this year, particularly around head, face and back areas and slightly less severe for arms and legs. Red pimples, itching and with white tips on some of them. Had took the antibiotics for months in addition to topical ointments, no more effect. Many pimples became acne after scratching, and some turned into scars. His friend referred him to my clinic for Chinese medicine treatment.
I found there were many red pimples around his head, face, and neck area with white tips on some of them (see photo). Some had turned into hard scars and some into dark acne. patient is of medium built with dark yellow skin color. Yellow thick greasy tongue coating, and tongue colour is red.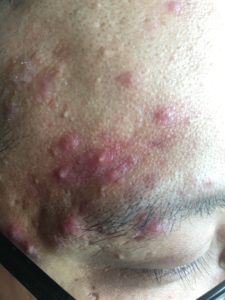 Initial diagnose:eczema combined with acne ( dialectical for damp and heat type) .Prescribed Chinese herbal medicine Fangfeng Tongsheng San for him.
After seven doses, red pimples had faded in colour with most white tips disappeared. Patient's face colour looked much better, with itching/skin irritation reduced significantly. Yellow thick greasy coating became thinner abd red tongue become lighter. Patient is under further treatment.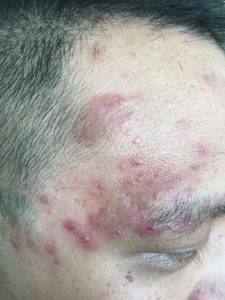 Having been in NZ for 16 years with my own Chinese medicine clinic, I have been practicing as a Chinese medicine doctor only, unlike my previous career in China as a acupuncture specialist or as a physician in hospital practicing in both Western and Chinese medicine. I deal with some diseases daily such as the eczema, acne, dermatitis,ringworm and other skin disease. Treating skin diseases with herbal medicine is one of my treatment methods. Thanks for reading and please visit www.drwin.co.nz for more more of my medical articles and case study and treatment experiences.