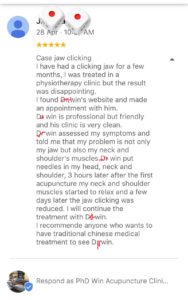 Case jaw clicking
I have had a clicking jaw for a few months, l was treated in a ph****therapy clinic but the result was disappointing.
I found PhD win's website and made an appointment with him.
PhD win is professional but friendly and his clinic is very clean.
PhD win assessed my symptoms and told me that my problem is not only my jaw but also my neck and shoulder's muscles.PhD win put needles in my head, neck and shoulder, 3 hours later after the first acupuncture my neck and shoulder muscles started to relax and a few days later the jaw clicking was reduced. I will continue the treatment with PhD win.
I recommende anyone who wants to have traditional chinese medical treatment to see PhD win.