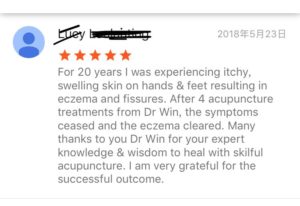 https://www.google.com/maps/contrib/117864444381224725707/reviews/@-36.888118,174.7116462,17z/data=!3m1!4b1!4m3!8m2!3m1!1e1?hl=en-NZ
Review in our Google map
For 20 years I was experiencing itchy, swelling skin on hands & feet resulting in eczema and fissures. After 4 acupuncture treatments from Dr Win, the symptoms ceased and the eczema cleared. Many thanks to you Dr Win for your expert knowledge & wisdom to help with skillful acupuncture. I am very grateful for the successful outcome.