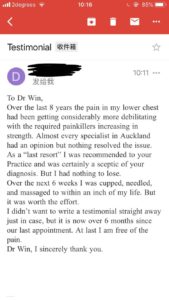 To PhD Win,
Over the last 8 years the pain in my lower chest had been getting considerably more debilitating with the required painkillers increasing in strength. Almost every specialist in Auckland had an opinion but nothing resolved the issue. As a "last resort" I was recommended to your Practice and was certainly a sceptic of your diagnosis. But I had nothing to lose.
Over the next 6 weeks I was cupped, needled, and massaged to within an inch of my life. But it was worth the effort.
I didn't want to write a testimonial straight away just in case, but it is now over 6 months since our last appointment. At last I am free of the pain.
PhD Win, I sincerely thank you.