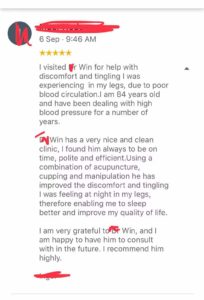 I visited PhD Win for help with discomfort and tingling I was experiencing in my legs, due to poor blood circulation.I am 84 years old and have been dealing with high blood pressure for a number of years.
PhD Win has a very nice and clean clinic, I found him always to be on time, polite and efficient.Using a combination of acupuncture, cupping and manipulation he has improved the discomfort and tingling I was feeling at night in my legs, therefore enabling me to sleep better and improve my quality of life.
I am very grateful to PhD Win, and I am happy to have him to consult with in the future. I recommend him highly.