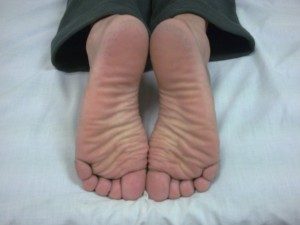 One case of heel pain was helped by mini-knife needle
Dr win Huang
Mrs lee,famale,50 years old, pain on both heels for one year.
She got the heel pain one year ago,worsted by long standing.at first,she thought that it would recovery itself,but it would be worse and worse several months later.she could not walk for long time due to heel pain,and she could not touch the floor with the heels because of the usergroups pain.she was treated by injection for all three times,she could not get the effects.her friend recommended me to him.
Selecting the points under Zhaohai points 2 cm where is inernior of ankles,inserting mini-knife needle to the points,then taking out the mini-knife needle immediately.
The pain is all gone after two sessions treatment.