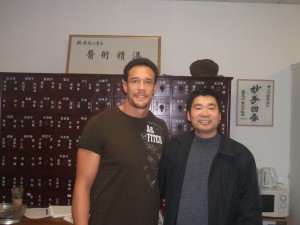 DR win Huang, associate professor, has worked in the Acupuncture-moxibustion Department of Shandong Provincial Hospital , and he is the deputy director of the department as well. Shandong Provincial Hospital is a general hospital, which is in charge of medical treatment, teaching and research. There are 2400 staff and 1200 beds in the hospital whose daily outpatient is above 3000.
Dr win Huang is the only one who got Doctorate(Ph.D) on acupuncture-moxibusetion in Shandong Province. He is responsible for diagnosing and treating the outpatients and inpatients of the Acupuncture-moxibustion Department. He hosts the daily ward round, meeting and discussion on the difficult cases and works out the suitable therapy to cure patients. With his efforts, acupuncture-moxibustion therapy becomes the one of the characteristic techniques of our hospital. He conquers many complicated cases that cannot be helped by west medicine, so he gradually raises public attention in the medical field of China and becomes the well-known acupuncture-moxibustion specialist of Shandong.
DR win  Huang was appointed to be conductor of postgraduates for masterate by Shandong Medical University in June; 2001. He directs postgraduates' medical study and clinical practice. In recent years, many physicians from U.S.A, Sweden, Switzerland, Australia and Austria come to learn acupuncture-moxibustion technology from him. He is a responsible teacher and makes Chinese medicine more and more acceptable around the world. DR win Huang is also one of the leading number of two research tasks of Chinese Medicine Management Bureau. Experts have appraised one, and the other is on. He has pressed many academic theses on state-level magazines and co-published 2 books, chiefly editing one of them.
I have done acupuncture for 31 yrs, I got doctoral degree in acupuncture in Chinese university in 1995,and I had acupuncture work experience of big hospital in China,and I have the Chinese medicine clinic in Mt Albert Auckland NZ from 2002,so if you would like choose a acupuncturist to fix your problem,please come to my clinic ,you will have a excellent choice.
If you would like to make an appointment please call us on (09) 8150518 or visit us 1054 new north road ,mt albert. if you require more information you may e-mail us at hwenchuan@sina.com
Trackbacks and pingbacks
No trackback or pingback available for this article.