My problem and my feeling after Chinese medicine treatments
By Stephen McIntyre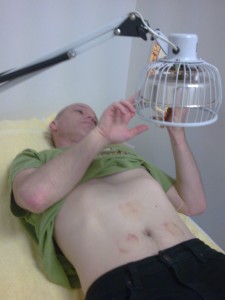 Jan 27(2010)
Feeling very tired, sore in stomach, passing many small stools(approx.6—7 times/day),no appetite but get sudden feeling of intense hunger.
(first day of treatment, receive little acupuncture, begin taking herbs)
feeling good immediately after treatment, appetite has returned but after arriving home and eating I feel very sore in stomach again.
Jan 28:
Morning : feeling very sore in stomach, dizzy, lightheaded.
Afternoon: improving.
Evening: feeling Ok. sleep well. No night sweats.
Jan 29: wake up feeling very good. This continues all day. Appetite good, stools good, stomach feels normal, digestion is good . I have more energy.
Jan 30: still a little sore in lower bowels in morning before passing stool but OK apart from that, Generally feeling very good.
Feb 1: Finish herbs this morning. Feeling very high energy all day (almost manic).
Feb 2: feel slight symptoms in morning (empty, hollow feeling in stomach after eating).Get more herbs and acupuncture
Feb 3: feeling good in stomach, stools slight soft and runny, feeling slighty tired, sleeping well.
Feb 4: slighty liquid stools feel unsettled in stomach. Have a acupuncture in Dr Win Clinic.