I strongly recommend those who are suffering from months and months of dry coughs to see PhD Win immediately :)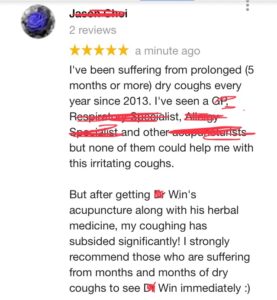 I've been suffering from prolonged (5 months or more) dry coughs every year since 2013. I've seen a &&, R&&&&&& Specialist, A&&&&& Specialist and other acu&&&&&rists but none of them could help me with this irritating coughs. But after getting PhD Win's acupuncture along with his herbal medicine, my coughing has subsided significantly! I strongly recommend those who are suffering from months and months of dry coughs to see PhD Win immediately 🙂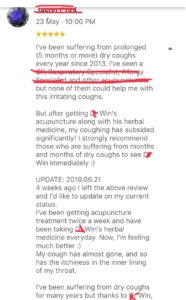 UPDATE: 2019.06.21
4 weeks ago I left the above review and I'd like to update on my current status.
I've been getting acupuncture treatment twice a week and have been taking PhD Win's herbal medicine everyday. Now, I'm feeling much better 🙂
My cough has almost gone, and so has the itchiness in the inner lining of my throat.
I've been suffering from dry coughs for many years but thanks to PhD Win, now I am almost free from coughing.
I am very much thankful to PhD Win.
If you would like to make an appointment please call us on (09) 8150518 or visit us 1054 New North Road, Mt Albert. If you require more information you may e-mail us at hwenchuan@sina.com